Looking for a cafe to work with good wifi?
The best part of being a digital nomad is choosing where to work (city, country), and at the micro level: Which coffee shop today?
To me, the place to get in computer time (or do some writing) has friendly staff, decent wifi, great coffee, plenty of power outlets. Plus, it isn't so busy that I feel I'm getting in the way of their regular lunch business in taking up a table. If you're visiting San Miguel de Allende, here's a run-down of my favorite places to get connected.
I've created a map of these coffee shops that might also be helpful!
At the end of the day, if you fancy a cold beer or margarita , don't miss my posts on The Best Rooftop Bars in San Miguel and Top Experiences in San Miguel de Allende!
Inside Cafe
You can't do better! Great coffee and best food in town.
Possibly the friendliest coffee shop in San Miguel, owned by a couple who are from Mexico and New Zealand. With excellent coffee, this is one of two places in town where you can get a great flat white (or a beer, depending on how the mood takes you).
The downstairs area (one floor up from street: featured in the header image) has lots of power outlets and decent sized tables. It doesn't have a ton of natural light, but fun decor and ambience make up for it, and the space is generally not mobbed.
When you're ready for lunch, the food on the open air terraza upstairs is amazing. You can't do better than the breakfast and lunches here, which have tons of vegetarian and vegan options. On the weekend they have an unlimited chilaquiles buffet with coffee, fruit and juice. And it's not only me who thinks the chow is amazing. The food here gets rated as #1 in all of San Miguel on TripAdvisor!
Working at Inside Cafe, I rarely feel like I'm in the way, as the lunch crowd pass through to visit the upstairs restaurant. Saying that, it can get busy on weekends with people waiting for a table upstairs, so a better fit for working on weekdays.
Geek & Coffee
Best Wi-Fi, rarely too busy and peaceful setting by a duck pond
A little further from the center (although not much), Geek & Coffee is located next to the amazing art center that is Fábrica La Aurora.
With dual fiber connections, you won't find better connectivity and for that reason this is one of my personal favorites. A great place to settle in for the day and enjoy the expansive garden and view of the duck pond.
They have plenty of outlets both inside and outside, good coffee, and a have a broad choice of drinks and food, with a great value daily special. Or you can always skip out for a break and visit one of several great restaurants in Fábrica La Aurora next door).
As an added bonus, this is the spot to come if you're having computer issues. The 'geeks' here are ten times more qualified than Best Buy, and a hundred times friendlier. I've seen them help with problems ranging from 'I can't get my iTunes to work' to my iPhone won't connect.
Geek & Coffee has been known to get a little busy mid to late morning with local business and mom's meetings, but of all those listed, this is the largest location (due to its expansive garden), so even with a crowd, things normally work out just fine.
Ki'bok
Great coffee, usually not crazy busy, and very central
This place is a hidden gem, right in the center of town, with good coffee and super cute presentation on wooden boards. It has three levels: the street where you enter, an upstairs level that I like best because it is usually quiet enough to stay focused and a terraza roof deck with a cute view.
Friendly Mexican staff, and enough space to not feel cramped. Ki'bok has a limited food menu (mostly vegan options like quinoa bowls), but the upside is you won't get chased out by the lunch rush.
This is a spot where I can easily pass a big chunk of the day, spreading my manuscript out on the table and getting editing done.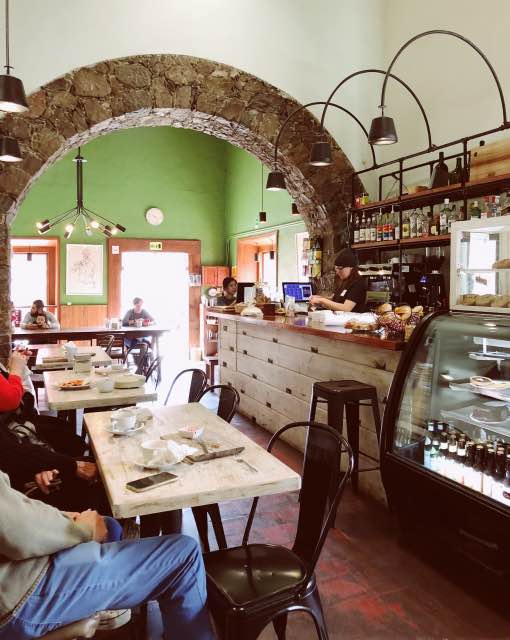 Broad food selection and central location
La Mesa Grande
Named after its largest table that spans the whole cafe, La Mesa Grande is a gathering place, with a wide breakfast and lunch menu, and various fresh breads for purchase, including pizzas.
It's a great central choice, but one note that with its central (super convenient) location, it can get busy with the tourist crowd over lunch hour, especially during high season and holidays.
Although I've never been asked to leave, I have been known to clear out over lunch as I felt like I was preventing them doing business by taking a whole table for work. But this is rare and not usually the case in the mornings or late afternoon.
Plenty of power outlets and separate tables (in addition to the large central table), and the coffee is decent, although not among the best in town.
Adorable locals spot with inside and outside seating, delicious food.
Cafe Arab'ella
A new kid on the block. If you're staying near the San Rafael neighborhood (close to San Juan de Dios, the second largest food market in town), this cafe has a friendly owner from Ohio, a quiet vibe and nice food ranging from bagels in the morning to lunch that includes flatbreads, dolmas, chicken kebabs and a Mediterranean plate with hummus.
The hours are a bit more unusual (they take a break during the day), so check out their Facebook page for latest hours, but this is a cute neighborhood spot which provides a nice break from the hustle and bustle of the center.
It's rarely too busy and is also located right around the corner from Shelter Theater and often open before shows.
Plan to use the wifi with digits in its title (not Centro Villanueva) and the speed is actually pretty decent.
Special Mention
These are more cafes I love, and where I sometimes work, however, for various reasons they don't quite make the cut of the top places to work, in general (but if you're a writer don't miss Cafe Zenteno the first one).
Cafe Zenteno
There are several Cafe Zentenos in San Miguel de Allende and in my opinion (other than the BuonForno bakery) these have the single best coffee.
The Zenteno I love for working is located inside the Bellas Artes complex inside a converted convent. You couldn't imagine a better setting to jot down a few words or dream away a part of the day.
However, this cafe doesn't make the ideal list above due to a lack of power outlets (let's face it the laptop only lasts so long!).
However, it's perfect if you're just looking for a spot for a couple of hours or want to write by hand in a fabulous outside locale. This spot is so San Miguel it belongs in the movie. Complete with blankets over the chairs if it's a chilly day.
There are two other locations of Cafe Zenteno by the same owners with the same great coffee. One is small and on the corner of Hernandez Macias (quiche and cookies), while the other on Canal Street has a beautiful open courtyard and serves breakfast or lunch (it also has a different name, La Sacristia, just to confuse you!). You'll recognize each of the Zenteno cafes by the tables with dried flowers under the glass. And, of course, the same great coffee.
Cafe Rama
I love this breakfast and lunch spot close to the Rosewood hotel, which has a cool spin on breakfast, including an interesting asparagus dish and a nice take on a croque madame.
I've been known to work here: their wifi is good, and they have some of the coolest decor and art. However, to me it's always felt like more of a restaurant than a cafe to work for the day.
A great spot to have breakfast and catch up on work before touristing for the rest of the day.
Starbucks
At the moment I write, there is only one Starbucks in San Miguel, right on the Jardin (main square) and that's part of the problem with this as a work location, it's just too busy!
Starbucks is generally mobbed, chatty, has big lines to get a coffee, and perhaps I'm a little biased, but even if Starbucks Mexico is a separate company, why would you spend your time in Mexico there instead of at any of the amazing local cafes above?
Saying that, Starbucks has the most gorgeous courtyard of any I've seen around the world, which is worth a visit just for the joy of taking a photo!
Short version: if you can't live without your Starbucks specialty drink fix go ahead, but there are better, quieter places to work, with much better coffee.
Was this post helpful? Did I miss your favorite? If so, I'd love to hear from you in the comments!
My day job is that I'm an author of fiction, so if this was valuable, the best way to support me is follow my newsletter and encourage your friends to buy my books!